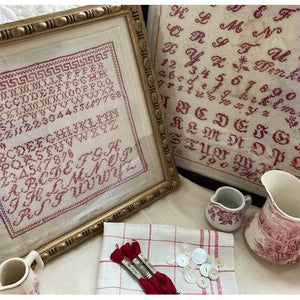 More Information
Judy tells us "I have been collecting antique red samplers for many years, and just love the contrast of the red fibers with linen. The chart pack includes five samplers and each one is quite unique. There are fifteen alphabets, five sets of numerals, a number of borders and other sampler motifs. Each sampler is described in detail, and each chart has been printed on a full sized page. 
Each sampler is identified by the city, name of the stitcher, or by a motif or border. A detailed description has been written about each sampler including stitch count, linen and closest DMC colour match.Two are dated and the other three are late 1800's to early 1900's.
Abingdon 1878 - stitch count 190 x 158 on 40ct linen with DMC 816;
Berta Heinen Sampler 1904 - Stitch count 166 x 171 on 26ct with DMC 498;
The BRKITS K sampler - Stitch count 195 x 155 on 56ct with DMC 498;
The Greek Key Sampler - Stitch count 114 x 108 on uneven thread count in red cotton;
The Star Sampler - Stitch count 191 x 139 on uneven 80/74 linen with DMC 816.
Select the fabric and thread of your choice to stitch these - there are so many beautiful coloured fabrics and threads available.