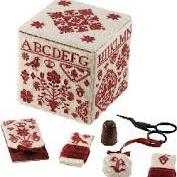 More Information
This little box, which measures almost 3-1/2 inches, is the perfect size for holding your needlework tools.  Place it on a table next to you when stitching, or take it to your favorite stitching event.
Two embroidered pinkeep medallions adorn the inside of the box, and a pincushion is on the inside of the box lid.  Charts and directions are included for the embroidered box, the pinkeep medallions, a scissors weight, a needlebook, and two threadwinders. 
The model was stitched on 32-count Antique Ivory linen from Zweigart, Inc. using DMC 739 cotton embroidery thread and three, 6-yard skeins of Cranberry silk thread from Gloriana Threads.
The motifs are all cross stitched over one linen thread, but you can stitch them over two linen threads to create larger items.  Just make sure you buy enough linen and enough thread from the same dye lot. Each strand of Gloriana Thread has 12 plies.  Keep this in mind if you chose another brand of thread so that you'll have enough thread from the same dye lot to complete the project.
Stitches used:  backstitch, cross stitch over one linen thread, and four-sided
Stitching directions, charts, stitch diagrams, and detailed assembly instructions are included.