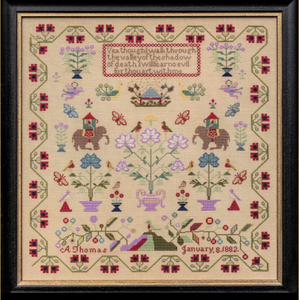 More Information
Anna, Angharad, or possibly Alwen? We shall never know as the young girl who finished this charming sampler on January 8th in the year 1882 did not record her Christian name. From the moment we first saw A Thomas' sampler she has been affectionately called "The Nellies," as her sampler features two elephants carrying howdahs.
It is easy to assume that samplers that feature exotic animals were taught either by teachers or stitched by children who had travelled to or lived in exotic places. However, this sampler is Welsh, and we believe that it was the exotic animals that travelled with the circus to the valleys of Wales. By the mid-19th century there were hundreds of circuses operating in Britain and the fairground entertainers travelled to their audiences. The circuses toured to even the smallest of towns and in the 19th century the development of the railways enabled circuses to travel further.
There is a Welsh folklore that tells a story about a Victorian travelling circus that visited the ancient market town of Tregaron in the upper Teifi Valley alongside the River Brennig in Ceredigion, West Wales. For hundreds of years cattlemen drove their herds through the town, and its twelve pubs kept the local clergy very busy in their perpetual war against the evils of drink. On the evening of the first Friday in July 1848 the town's population was treated to a procession of caravans, horses, bears and elephants from Batty's Travelling Menagerie.
There are several different versions as to what happened but the following Friday the pages of the Carmarthen Journal carried a more sombre story, reporting the death of one of Batty's young elephants in Tregaron.
Some reports state that the elephant drank water contaminated by a lead mine and died shortly afterwards. The travelling show moved on, leaving either a dying or dead elephant behind. To this day the local legend persists that the unfortunate elephant, known locally as "Jwmbi," was buried by local people behind what is now the Talbot Hotel.
The reproduction of Anne's sampler has been a team effort. Her sampler has been painstakingly charted by Sandra Moffitt, her booklet produced by Nicola Parkman and Suzanne Sirotti who lovingly stitched the model. At the very core of Hands Across the Sea Samplers there is a team of needleworkers who are passionate about antique samplers and being able to share those samplers with you.
Nature's great masterpiece, an elephant; the only harmless great thing. ~ John Donne
Stitch Count: 303 x 324
Stitches used: Cross Stitch over 2 threads
Linen: Weeks Dyeworks in Parchment
Threads: 14 colours with conversions given for DMC and Au Ver a Soie in soie d'Alger and  100.3