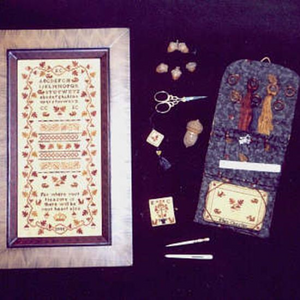 More Information
This project contains directions for stitching both a sampler and a sewing case including a removable mattress-style pincushion and a gathered pocket.  There is a place to put bone rings for holding your embroidery threads.  Also included are two needlework "treasures" - a needlebook and scissors weight.

The models for these projects were stitched on 32-count Autumn Gold linen from Lakeside Linen and Designs, Inc. and use overdyed threads from Weeks Dye Works, and Sampler Threads from The Gentle Art.  DMC color substitutions are provided.  The sewing case also uses Toasted Almond linen from Zweigart.

Stitches used: cross stitch, cross stitch over one, alternating double backstitch, backstitch, closed herringbone, double-sided Italian, four-sided, montenegrin, mosaic, small rice, satin, smyrna cross, tent, vertical elongated cross, and gobelin.  Nun's stitch is used on the needlepage.  If desired, the majority of these stitches can be replaced with cross stitch.
Stitching directions, charts, stitch diagrams, and detailed assembly instruction are included.