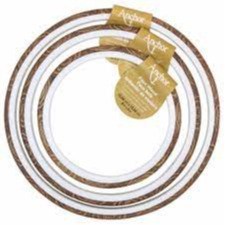 More Information
Available in a variety of sizes.
Each sold separately. 
Anchor Embroidery Hoops feature a 'Super Grip Lip' that holds fabric securely in place without distorting or snagging your fabric. The outer ring  is made of felexible vinyl that stretches over the inner ring and keep your fabric very taut.
Perfect for hand stitching projects as well as for framing finished pieces.Durable and flexible. No screws or hardware to tighten! 
The faux wood grain complements modern decor.
This item contains a P65 warning required by the State of California, USA . This is because it is made of vinyl.