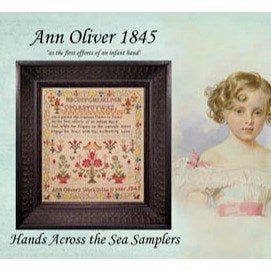 More Information
HATS say" In the eleventh year of her age, Ann Oliver finished her captivating sampler. The more you look at her needlework, the more there is to enchant. The young schoolgirl had a good eye for colour and design.
It is with regret that we were unable to discover some background information about the sampler and its maker. There are many Ann Olivers to be found in family history records, and we were unable to pinpoint our Ann.
Ann included the verse "Jesus permit thy gracious name to stand …" It is one of the most popular verses found on schoolgirl samplers in the 1800s. It is attributed by some to John Newton (best known for the hymn Amazing Grace), and it is said that he wrote it for the sampler of his niece. It has also been suggested that it was composed by Isaac Watts also for his niece.
We are very thankful that Ann's sampler, "the first efforts of her infant hand", has been cherished by her descendants. Their care has ensured that in the 21st century needleworkers around the world are able to remember Ann and enjoy her work."
Thread Legend
Ann's sampler has been stitched with a palette of 15 colours from Au Ver à Soie's range of Soie 100.3. Below we have provided conversions for Soie d'Alger and DMC. Only 1 spool or skein of thread is required, whether you are stitching on 14ct Aida/28ct linen or 56ct linen.
Soie 100.3 ~ Colour Description
022 Golden olive ~ light
060 Shell pink ~ medium light
099 Brown grey ~ very dark
137  Terracotta ~ very dark
152  Moss green ~ dark
205  Coffee brown ~ very dark
241  Straw ~ dark
274  Avocado green ~ very dark
313 Wedgewood ~ very dark
425  Hazelnut brown ~ light
621  Grey green ~ light
666 Shell grey ~ medium
681  Christmas red
705 Avocado green ~ dark
707 Green grey ~ medium
Soie d 'Alger ~ Colour Description
524  Golden olive ~ light
1446 Wedgewood ~ very dark
1814 Grey green ~ light
2144 Moss green ~ dark
2515 Straw ~ dark
2646  Terracotta ~ very dark
2925 Christmas red
3021  Brown grey ~ very dark
3413  Shell grey ~ medium
3724  Green grey ~ medium
3725 Avocado green ~ dark
3734 Avocado green ~ very dark
4126 Coffee brown ~ very dark
4622  Shell pink ~ medium light
F09 Hazelnut brown ~ light
DMC ~ Colour Description
152 Shell pink ~ medium light
321 Christmas red
422 Hazelnut brown ~ light
452 Shell grey ~ medium
580 Moss green ~ dark
833 Golden olive ~ light
898 Coffee brown ~ very dark
927 Grey green ~ light
935 Avocado green ~ dark
936 Avocado green ~ very dark
3021  Brown grey ~ very dark
3052 Green grey ~ medium
3777 Terracotta ~ very dark
3820 Straw ~ dark
3842 Wedgewood ~ very dark