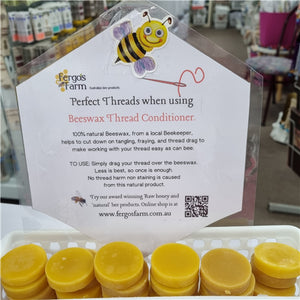 More Information
100% natural Beeswax from a local beekeeper here in Brisbane! 
This Beeswax round will help cut down on tangling, fraying, and thread drag to make working with your thread easy as can bee!
Each round has a diameter of 3.5cm and a depth of 1cm.
To Use - Simply drag your thread over the beeswax, less is best so once is enough! No thread harm is caused from this product which is 100% natural.