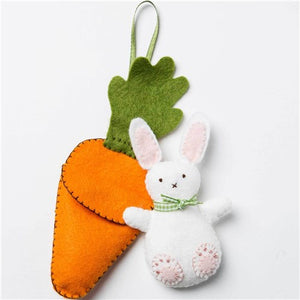 More Information
This irresistible Bunny in his Carrot Bed mini craft kit contains everything you need to make one felt hanging decoration. He loves to snuggle up in his carroty bed or sometimes uses it to hide his stash of chocolates. 
Corrine says:"
We only use the best, softest, easiest to use wool-mix felt (45% wool, 55% viscose) in distinctive shades that are often hard to find elsewhere and will bring all your projects to life delightfully
Mini Kits appeal to crafters of all abilities, including those just starting out, and anyone looking for an imaginative gift. Felt is a very forgiving material and these mini kits are particularly well suited to teaching a beginner to sew and do not take long to make.
Many of our customers also like to make them and then give them a presents. Double happiness all round!"