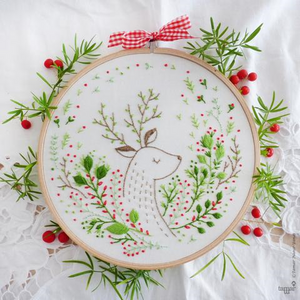 More Information
Christmas Deer embroidery design is a 'Do It Yourself' project. It can be fun and easy to be creative, just follow the stitching & color guides and you'll easily create your own beautiful embroidery art! The applications of the embroidery are endless - can make an excellent wall decor framed in a hoop or any other frame of your choice, appliqued to a pillow cover or a bag, given as a handmade gift or a lovely addition to your home. 6" embroidery kit.

Christmas Deer  includes:
High quality printed design on a 8.5x8.5" white fabric
Stitching and Color Guides
DMC embroidery threads
Embroidery needle
The fabric is printed with a bright gray pattern of the design, so that you can see where to make the stitches.