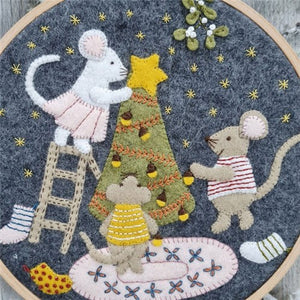 More Information
This very special hoop kit features our very favourite creatures getting ready for Christmas. Amid twinkling lights, the three little mice are putting finishing touches to their tree, hanging homemade garlands and acorns. They have been very good this year and have high hopes their stockings will be bulging by morning! 
A festive kit with a difference, this atmospheric design evokes cosy winter nights full of joyful anticipation.   
The hoop is both a very useful support while working on your project and also a lovely frame for it. The kit includes high quality wool mix felt in 5 pretty shades as well as 12 carefully chosen assorted DMC threads, an individually wrapped needle and of course a 19cm wooden hoop. 
This kit is suitable for beginners and more advanced crafters looking to develop their sewing skills as it includes a lot of accessible embroidery stitches and layering. Follow the suggested patterns or use your own ideas. 
Full scale templates and instructions are very clear and we give you a stitch guide for extra support. Our top quality wool-mix (45% wool, 55% viscose) felt is extremely soft, lovely to use and its distinctive shades will bring all your projects to life delightfully.
Pick up some scissors and get started!