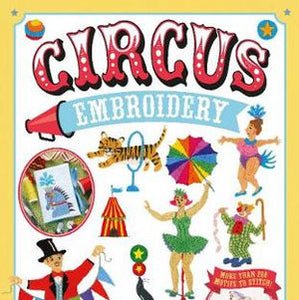 More Information
Relive the childhood excitement of a travelling circus arriving in town with this beautifully stitched celebration of traditional performers and their awe-inspiring acts. Packed full of nostalgic motifs and projects influenced by circuses of the past, you won't be able to resist getting into the carnival mood and picking your favorite member of the troupe to stitch.

The extensive collection of bright, playful motifs makes a handy resource for any embroidery enthusiast to dip into.

With spreads made up of template outlines on one side and the finished stitched items opposite, it couldn't be easier!. They cover every imaginable spectacle that might be seen at a circus of yesteryear. From daring acrobats, tumblers and tightrope walkers to incredible performing animals – you'll be transported straight back to this exciting world from another era. Also included are the tents, signs and caravans that make up the circus infrastructure along with decorative borders, banners and lettering.

Projects include: strongmen, acrobats, tumblers, clowns, elephants, train, dancers, musicians, ringmasters, banners, flags, tents, ticket office, signs, big cats and many more...