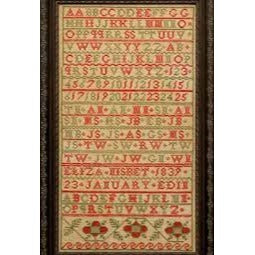 More Information
This chart comes in a  spiral-bound notebook format The piece is stitched in silks, wool or DMC floss in just two colors. Use the suggested ciolours or two of your favourites! The design can be stitched on the thread count of fabric that you most prefer. 
The design area is 117 stitches (w) x 221 stitches (h). These calculations have included a 3″ margin for finishing and framing. The model was stitched using 24ct Legacy Linen in Rain Barrel that HATS  "aged" by tea dyeing. The original sampler was stitched on approximately 24ct linen  and Nicola suspects it was woven on a hand loom.
The design is suitable for stitching on Aida, Linaida, or linen. We recommend that you should use a count and fabric that you enjoy working with.
24ct: Design: 9.75″ x 18.42″ Fabric: 15.75″ x 24.42″
28ct: Design: 8.36″ x 15.79″ Fabric: 14.36″ x 21.79″
32ct: Design: 7.31″ x 13.81″ Fabric: 13.31″ x 19.81″
36ct: Design: 6.5″ x 12.28″ Fabric: 12.5″ x 18.28″
40ct: Design: 5.85″ x 11.05″ Fabric: 11.85″ x 17.05″
46ct: Design: 5.09″ x 9.61″ Fabric: 11.09″ x 15.61″
56ct: Design: 4.18″ x 7.89″ Fabric: 10.18″ x 13.89″
Eliza's sampler has been stitched with a palette of two colours from Au Ver à Soie's range of Fine d'Aubusson wool. We have provided conversions for Soie 100.3, Soie d'Alger and DMC.
One thread of Fine d'Aubusson Wool on 24ct fabric
2924 x 2 ~ Christmas red
3724  x 2 ~ Avocado green ~ very dark OR
One thread of Soie 100.3 on 46 & 56ct fabric
378 ~ Avocado green ~ very dark
681 ~ Christmas red  OR
One thread of  Soie d'Alger on 36ct, 40 ct & 46ct fabric
2924 ~ Christmas red
3716 ~  Avocado green ~ very dark  OR
Two threads of Soie d'Alger on 28ct & 32ct fabric
2924 x 2 ~ Christmas red
3716 x 3 ~  Avocado green ~ very dark  OR
One thread of DMC on 40ct fabric
321 ~ Christmas red
936 ~ Avocado green ~ very dark  OR
Two threads of DMC on 28ct, 32ct & 36ct fabric
321 x 2 ~ Christmas red
936 x 2 ~ Avocado green ~ very dark