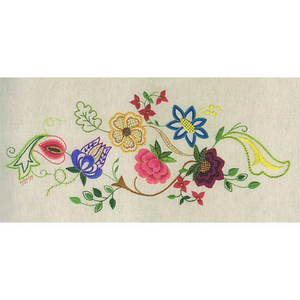 More Information
A fairly quick, rectangular shaped Jacobean design that is embroidered in strong, beautiful colours, with beads and gold threads. Suitable for the fairly new embroiderer. Can be used as a small runner, tray cloth, rectangular shaped cushion, framed and as a design for a chair back.
NO THREADS OR NEEDLES INCLUDED -  available separately.
17 x 39cm. The sizes given are those of the actual embroidered area and not the fabric size, which is larger.