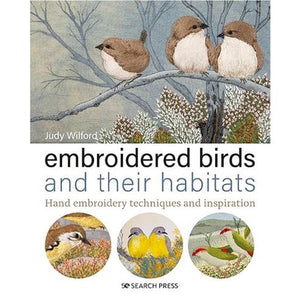 More Information
This stunning, high-level embroidery book explores the Judy Wilford's fascination with Australian birds and the ways they interact with their surroundings. She has researched the subject and turned her collection of rough sketches and notes into drawings and finally the embroideries featured in the book.
The book is divided into three parts that make it easier to understand the processes by working through the simplest to the more intricate or complicated forms of the subject. Each piece of work is divided into two areas and includes those elements applied to the rigid frame, to form the background or on-frame work, and those stitched off-frame on a hoop and applied later.
Part 1 covers the basic requirements including design requirements, embroidery materials (fabrics, needles and threads), equipment and your work space. It also includes a section on research and choosing a suitable bird and its habitat, and information on drawing up a design related to the bird and its placement in the wider landscape. Includes a project that guides you through the entire process from inspiration through to working design, layering the background and stitching.
Part 2 explores processes and techniques used in designing and working more complicated elements. The related project includes elements embroidered off-frame and applied to the work, such as tree trunks, branches, birds' nests and, of course, the birds. Such off-frame techniques include fused, felt-backed and suede elements and ways of applying them to the work.
Part 3 includes further examples of the author's embroideries, and drawn designs that could be used in future works. This section also includes information on finishing the work (mounting and framing), a stitch glossary, reference section and acknowledgements.