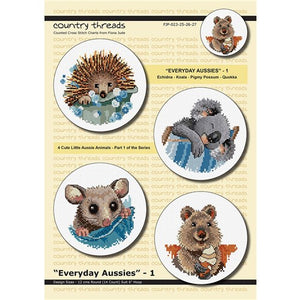 More Information
Four Individual Mini Designs, each, approximately 12 cms round. (14 Count)
Suit a 6 inch embroidery hoop for framing.
Four very cute mini designs featuring some of our favourite 'Aussie' animals participating in everyday activities. The sleepy Koala on a deckchair, Pigmy Possum in a pocket, Echidna in a bubble bath and the Quokka with an ice cream. The first four in the series. Perfect for 'quick stitching projects' and gifts.
Publication Contains: Four Individual black and white graphs, each with a full list of thread colours in DMC and Anchor.