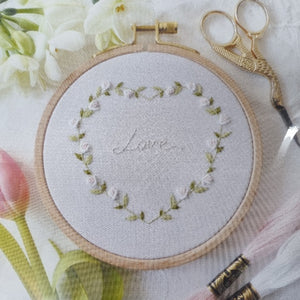 More Information
This is a small 4" design which would be an ideal gift for a wedding or anniversary or as a reminder that LOVE is important!.
Kit includes:
1.  Printed Pattern on 6.3 x 6.3" embroidery fabric (white background)
2.  Easy to follow Stitch and Color instructions
3.  DMC embroidery threads
4.  Embroidery needle
5.  Image of the finished piece
Hoop is not included but 4" hoop is required
Fabric size is 6.3" x 6.3" 
The fabric is printed with a bright gray pattern of the design, so that you can see where to make the stitches.

The applications of embroidery are endless - can make an excellent wall decor framed in a hoop or any other frame of your choice, appliqued to a pillow cover or a bag, given as a handmade holiday gift or a lovely addition to your home