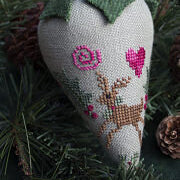 More Information
With this design from Erica Michael, you have two option. The linen berry is stitched on linen and the silk berry is stitched on silk gauze. 
LINEN BERRY Model stitched on 32 Ct. River Willow by Lakeside Linens with Weeks Dye Works and DMC floss. Stitch Count: 127W x 72H. Finished size is slightly more than 4" in length. Chart only
SILK BERRY Model stitched on 40ct silk gauze provided in the chartpack. Stitch count is 206w x 118H. The model is slightly more tha 2" in height.