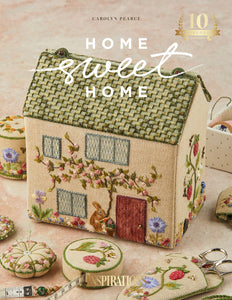 More Information
Ever since its first release in 2011, Carolyn Pearce's enchanting book, Home Sweet Home | An Embroidered Workbox, has become an international phenomenon.
To celebrate the 10th anniversary, Carolyn has expanded and refreshed her original masterpiece:
• New scissor sheath now added
• New pinwheel now added
• Bodkin holder now added
• Updated lining fabric
• New photography
• Refreshed layout
The final result is a magnificent blend showcasing both the original with the new to bring you a Home Sweet Home embroidered workbox like never before.
This charming English cottage, beautifully decorated with a garden of stitches, opens to reveal 12 gorgeous accessories and includes storage for all your notions. Ever since its release, this timeless design from Carolyn Pearce has proven to be a true delight and joy for needleworkers the world over.
With beautiful colour photographs, detailed instructions and clear diagrams, Carolyn provides everything you need to embroider and construct this stunning workbox and delightful matching accessories.
A full-size pattern sheet and over 100 step-by-step photographs make this an invaluable embroidery resource. Pages of glorious colour photography and detailed instructions make this an irresistible book you'll treasure for a lifetime.
Finished workbox measures: 16 cm high x 15.5 cm long x 9.8 cm wide (6 5/16" x 6 1/8" x 3 7/8").
We have all the requirements for this project as well as the accessories should you like us to put it together for you.