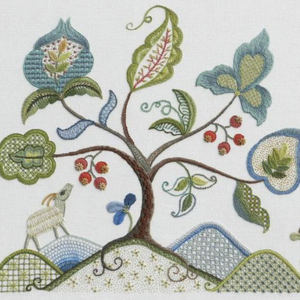 More Information
The embroidery design measures 33cm x 41cm wide (13" x 16").

** INTERMEDIATE - This project is perfect if you are confident with basic embroidery stitches and would like to stitch something a little more challenging.

IN THIS KIT YOU WILL FIND:

* INSTRUCTION BOOKLET with detailed, step by step instructions and diagrams
* Ivory linen twill with the embroidery design marked for your convenience and large enough for a cushion front
* 4 needles
* 33 full skeins of Appleton's crewel wool

YOU WILL ALSO NEED
* 75cm (30") wide slate frame
* 1m x 2.5cm wide (1yd 4" x 1") cotton tape
* 5m x 1cm wide (5yd 17") cotton tape
* Dressmaker's pins
* Matching sewing thread

The MOUNTAIN OAK is embroidered onto ivory linen twill, using 33 different embroidery stitches and 7 variations of laid trellis to create textures and patterns within the design. The detailed instructions and diagrams will help guide you step by step through the project however, you might find it helpful to have a stitch directory at hand.