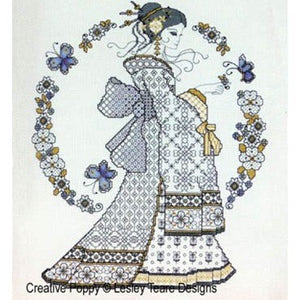 More Information
The young lady is wearing a kimono, each part of which is decorated with an extremely refined design. The obi, the large belt tied higher than the waist, forming a knot at the back,  is decorated with a contrasting pattern, even finer. The lady's black hair is adorned with hanging accessories, and pulled up to expose her graceful neck. The face is seen in profile as if she were shyly turning away and hiding behind her fan.
The chart seems to be black and white at first glance, but it is actually 7 different colors, including a metallic gold thread. Black and gold seed beads further embellish the embroidery.
The design is in fact composed of numerous "compartments", with blackwork patterns of various densities, evocative of different fabrics. Expert Blackwork designer Lesley Teare plays with different thread thickness to give a dimensional aspect to the embroidery. Thus no less than 3 types of black threads are used: Perlé 8 for thick borders, 2 strands of floss for certain contours and in 1 single strand for delicate ornamental patterns.
Like cross stitch, Blackwork is a counted thread technique, with stitches represented on a grid. A majority of stitches are backstitch, with some cross stitch filling certain areas. The chart comes with an The chart comes with an extensive Stitching Guide detailing all stitches including fractional stitches.