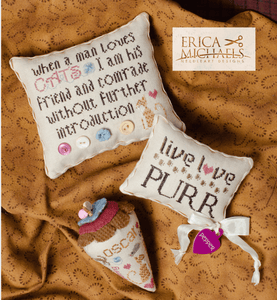 More Information
Three adorable smalls just for your favorite feline - a berry plus two additional pieces to frame or finish as a bowl filler or ornament.
Most of you will want to customize the color and/or markings on the various cats as charted. An alphabet is also included for personalizing. In addition, depending on color choices, you may want to switch up fabrics too. Have fun with these and make them special for your kitties!
You will also see that Erica has added a name tag to the "live love" piece - the same sort you can get made at the kiosk in many pet supply stores. It's a fun embellishment!
All three models shown are stitched on the same 37 count linen with the same color key. 
Berry: 126 x 72
Large cushion: 80 x 66
Small cushion; 55 x 35
Access Commodities: 37 count "Corn Tassel" linen
Classic Colorworks: Bamboo, Blackbird, Brown Sugar, Peanut Brittle, River Rocks, Shamrock, Sweetest Heart, Tea and Biscuits, Trail Dust
DMC: 838, 3052