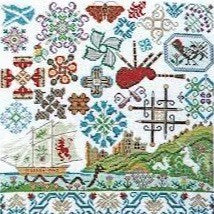 More Information
Of this design, we are told: "Quakers in Scotland - is number 5 in our series of Travel/Impressions "Quakers in..."
Note: Pattern Keeper Compatible
Our design is set in a mythical version of Scotland with magical creatures and a familiar castle. The Loch Ness Monster and unicorns make an appearance.
Includes vintage sailing ship-sail boat historical schooner and information on many of the historical motifs used in this design.
The design is 168x168 stitches, like the others previous releases (Holland, France, England and Japan)
It is charted in 17 colors of DMC".