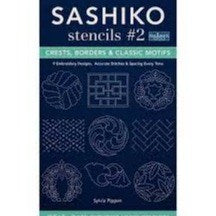 More Information
9 Embroidery Designs 3'' x 5'', Accurate Stitches & Spacing Every Time
This second set of sashiko stencils introduces nine more traditional Japanese designs. These handy stencils will give you the confidence to start each sashiko project with accuracy and ease. Use individual motifs or create a repeat border or "Kumon" (a circular Japanese Family Crest). Patterns include: Cypress Fence, Pointed Ocean Wave, Chinese Lattice, Gingo, Shells, Wisteria, Pine, Bamboo Variation and Wave Variation.
Easy-to-use stencils make learning Sashiko a breeze
Features 9 traditional Japanese designs
Position the stencil where desired, use a fabric marking pencil, mark your designs and get stitching!
The package includes three, 230 x 125mm durable plastic stencils and an instruction booklet.