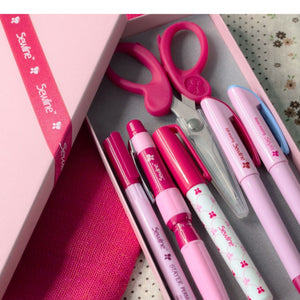 More Information
Sewline special Anniversary price of $80 - a savings of 20% off the normal price.
This limited edition 15th Anniversary pack from Sewline pack contains: Sewline Trio Colors, Styla, Air Pen Stayer, Glue Pen and Snippet Scissors. Beautifully presented in a keepsake box.
Sewline Trio Colors: A fabric pencil with a unique 360 degree rotating mechanism for "3-in-1" function.
Trio Colors comes with 3 coloured lead pencil points – white, pink and black. Just turn the barrel to select your colour. The ceramic leads glide smoothly over fabric, leaving a nice clean line with no chalky residue. The special grip means it's comfortable to use with good control. When you wish to remove the marks, simply use a polymer eraser ( there is a small one under the lid) or the Sewline Aqua eraser.
Convenient lead refill packs are available in white, green, pink, black, blue and a variety pack.
So the choice is yours to tailor the pencil as you wish.
Tip: Only press lightly when marking with ceramic leads to ensure easy removal. Always patch test.
Styla: Precision formed, ceramic rolling ball point gives smooth movement across fabrics without snagging or damaging the weave. The 0.8mm point gives a fine line that doesn't bleed and gives an even laydown of ink, right to the last drop.
The ink is a pale blue and deepens after a few moments. Lines are easily removed with the Sewline Aqua Eraser or water. Do not iron marks.
Wonderful for embroidery and marking on light coloured fabrics.
Air Pen Stayer: 
This PERMANENT marker pen gives a strong clear black line on fabrics, most plastics and ceramics. Great for stencils,  labeling school clothes or signing your quilt. Stayer ink is waterproof and has a low odour. It is quick drying and non-smudge. Xylene free. No need to heat set on fabrics.
Glue Pen: This clever glue stick means the end of sewing around pins! A water-soluble blue glue that dries clear is a quick, convenient way to hold fabrics for sewing. Great for quilting and appliqué work but also for hemming and general sewing.
Once glued, the fabric pieces can be pulled apart, so not to worry if they are misplaced or need to be adjusted. Wonderful time saver for English Paper Piecing.
Snippet Scissors:
From the 13th century, swords made in Seki, Japan gained the reputation of being the finest blades. This 800 year old tradition of producing high-quality tempered steel is inherent in the scissors made in Seki which carry the Sewline brand are now being sold across the world.
Many products have had to be made for use by either right or left-handed people and this has been so for scissors. Now, the function of the blades and the ergonomic handle design allows the Sewline scissors to be used in either hand. The Sewline scissors cut both ways.
There is an ideal balance in the leverage between blades and handles that makes for a smooth cutting action without strength or strain needed by the hand or wrist of the user. Sewline scissors cut without undue pressure.
Instead of the traditional metal or hard tortoiseshell type handles, the Sewline scissor handles are made of a composite material which, while rigid, feel soft and comfortable in either hand. There is a shaped support for the first finger which also adds to the comfort and control .
The stainless steel of the scissor blades is heated, forged and tempered to retain the fine cutting edge over a lifetime of use. The purity of the stainless steel ensures it will be free of corrosion in its home use environment.
The Sewline Scissors were created through requests from sewing crafts devotees for a high quality scissor that cut cleanly, are comfortable in the hand, take very little pressure to use, have ease of control and importantly, maintain its sharpness over years of regular use.