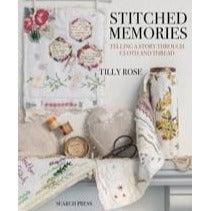 More Information
In this beautiful and inspiring book, Tilly Rose encourages you to seek out your precious stash of pre-loved items and transform them into beautiful and practical textile artworks that celebrate the lives of your loved ones and preserve your memories for generations to come.

Tilly shows you how to make 15 gorgeous projects, including cloth journals, lavender hearts, framed collages, wall hangings and miniature quilts. All of the designs have a story to tell and are made using a plethora of vintage fabrics, threads, lace, ribbon, buttons, beads, photographs and other found items. If you don't have a collection of suitable materials at home, you can have fun sourcing them from online marketplaces, thrift/charity stores and flea markets, and try mixing them with modern fabrics and embellishments for a more contemporary look.

The projects incorporate a range of exciting techniques, all explained through clear instructions and step-by-step photographs, including layering and collage, hand embroidery, transferring your own designs to cloth, stamping, applique, embellishing, patchwork, free motion embroidery and photo transfer.

This book will take you on a truly inspirational journey, encouraging you to be creative, to source and re-use materials of special significance, and to incorporate them into textile artworks that become treasured keepsakes.